Ben's Mustang Pages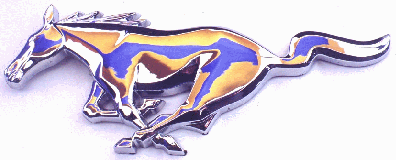 [an error occurred while processing this directive]
Welcome to Ben's Mustang Pages. These pages contain pictures and information on the Mustangs that my son and I are restoring. Click on the pictures and links below to see more pictures and information on the cars.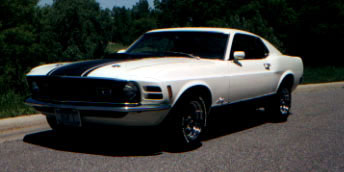 My first car was a 1970 Mustang Mach 1. My Dad helped me find it and buy it when I was 16. I kept the car for several years, but eventually, and regrettably, I let it go. Several years later I just had to have another Mustang. In May of 1993 I found the 1970 Mustang Mach 1 that I have now. It is quite similar to the first car I owned. It is a Metuchen built car, and was rumored to be from the south (Missouri I think). I found it through an ad in Hemmings Motor News in a small town in Northern Wisconsin. My son and I have spent many weekends working on the car over the last several years. In August of 1996, we finally had it complete enough to enter in it's first Mustang show. The "before" pictures on the following page were taken the day I bought the car in May 1993. The "after" pictures were taken in May 1996, after the paint was done and the initial reassembly was complete. There has been much work done on it since, and as with any restoration project, work continues.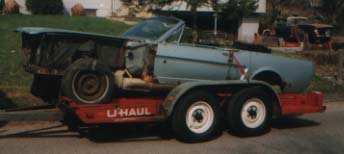 In the spring of 1998 I started thinking about how nice it would be to have a convertible. Since the major work was done on the '70 Mach, I figured we were ready to take on another challenge. I heard about a couple of convertibles that were for sale through an Internet mailing list that I am on. They turned out to be a '65 and a '66. These cars were located in Philadelphia, PA, and reportedly had spent their lives there. I wound up buying the 2 cars and a bunch of parts as a package in April of 1998. They are in a little worse shape and a little more disassembled than the '70 was when I got it. I have my work cut out for me. The '65 Convertible is a real A code 289-4V with a 4-speed transmission. It will be restored as close to original as I can make it. The '66 Convertible started life as a 6 cylinder 200-1V. Somewhere along the way the 6 cylinder was replaced with an A code 289-4V and C-4 automatic. The entire 6 cylinder drivetrain and suspension was replaced with the 8 cylinder components. Since this swap has already been done, I might take some liberties with this car. I'm putting a front bench seat in it, along with the lighted grill corral. I'm also thinking about trying the Granada front d

isk/power brake swap. The "before" pictures on the following pages were taken the day I brought these cars home in April 1998. I plan to take and post more pictures of these cars along the way, to better document their progress. The '65 has been completely disassembled and is ready for us to start putting it back together.
A friend recently told me about a '65 Coupe that was sitting at a farm for sale. I went to take a look at it and wound up buying it. It is in much better shape than the others (when I've bought them), but it will still need some TLC.
The Classic-Mustangs Internet e-mail list has been an invaluable resource for me. I am also a member of the Upper Midwest chapter of the Shelby America Automobile Club, and of the Performance Ford Club of Minnesota.
Here are a few Mustang shows that are coming up here in the Twin Cities area:
Updates soon. . .
---